"You don't need many. You need only one good one".
Guerrilla Marketing is an advertisement strategy carried out in the form of surprises or unconventional interactions to promote a product or service. In simpler words, it can be termed as a publicity gig or stunt. Not only is it cost-effective in promoting sales and branding but also has the power to reach masses with just a small action. Connecting with the emotional values of the consumer is the key to successful Guerrilla Marketing.
Brands use this marketing strategy to create memorable experiences in huge crowds during public events like cultural festivals, concerts, marathons and others. The trick to a successful outcome is striking a balance between the correct timing and location. This strategy helps to bridge the gap between companies and consumers as both the parties get a chance to directly communicate with each other, and understand their needs.
 Outdoor Guerrilla Marketing –  
As the name suggests, this strategy includes carrying out the action plan outdoors by using surrounding elements to grab crowds' attention. This helps in promoting your products stealthily.  
For instance example, SIXT's SIXTH AVE, a rental car company in New York, promoted their brand by renaming Manhattan's "Sixth Avenue" to "Sixt Avenue." This smooth move by the marketers gained momentum in less than five minutes.  
Pro tip –  Street-smart marketing tactics might work for your company. Analyze it well. 
Indoor Guerrilla Marketing –  
In this strategy, brands use indoor spaces like malls, colleges, and auditorium for promotion. 
For example, FRONTLINE, a company producing flea and tick preventing products for dogs, used an indoor space very smartly. They covered the ground flooring with an image of an uncomfortable dog. When one looked at it from the top floors, the people looked like fleas on the dog. This shows that an innovative idea can make any indoor space the perfect canvas to send a message to the consumers. 
Pro tip – Your crowd can unknowingly be part of your promotional strategy. Use the opportunity to your benefit.
Event Ambush Guerrilla Marketing –  
This strategy is about branding a product or service noticeably but without the fuss of being sponsors. In simpler words, it means to display your product at an event without advertisement or promotion.  
Even big brands use this strategy. For example, Nike made a note-worthy move at the Olympics 2012. Their newly launched Volt shoes were neon in colour. So, they them designed with contrasting uniforms of the athletes to seek attention. This way they promoted their collection without even being an official sponsor. 
Pro tip – A silent move can make huge impacts. Analyze your consumers' behavior, and hit the nail in the coffin at that perfect moment.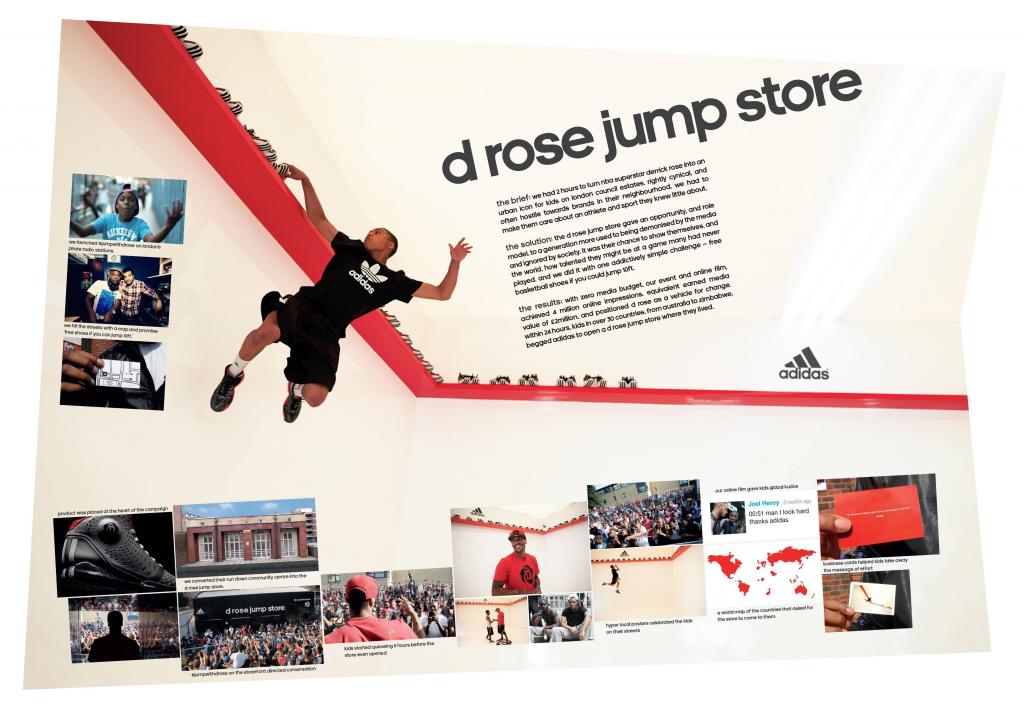 Experiential Guerrilla Marketing –   
It is an amalgamation of the three types. This strategy is executed with public participation. 
A perfect example would be what Adidas did with an event "D Rose Jump Store." They organized this event to launch their Derrick Rose signature sneakers. In this, they announced a giveaway of free Signature Sneakers to people who could jump and reach the sneakers kept at a height of 10 feet. The aim of this marketing move was to all the participants an memorable experience with Adidas. 
Pro tip – Consumers run the Castle. Work to earn their confidence in you.  
We at 361 Degrees Marketing, drive to transform Business's digital presence – we are in the unique position to reinvent their brand for a more digitally focused world through Logo Design, Content Curation, Social Media Marketing and Specialized Campaign Management. The new signifiers of a modern Digital Brand – are UI, Integration of Branded content and Communication.